ST. JOHN'S, NL – The Atlantic Institute for Market Studies (AIMS) called on the Newfoundland and Labrador government to cut spending in Budget 2017. While there is some good news for consumers, the benefits are contingent on the risky strategy of hoping for an increase in oil prices and production.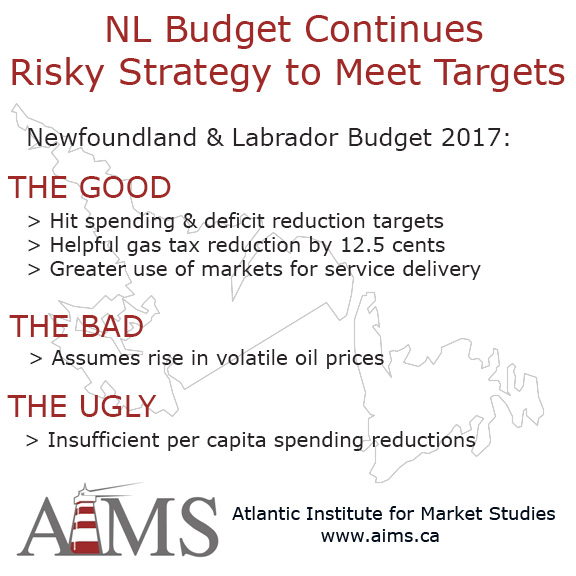 During her Budget Speech today, Finance Minister Cathy Bennett admitted that Newfoundland and Labrador has a spending problem.
"The budget reverses the worst part of the province's fiscal strategy, namely the gasoline tax hike from last year. This is good news," said Ed Hollett, AIMS Senior Fellow for Newfoundland and Labrador, in response to Thursday's budget.
"There are some positive steps here, but one worries that merely holding spending levels and banking on natural growth will prove unwise."
The Good:
Hit spending and deficit reduction targets
Helpful gas tax reduction by 12.5 cents by December 2017
Greater use of markets for service delivery
The Bad:
Assumes rise in volatile oil prices
The Ugly:
Insufficient per capita spending reductions
AIMS is Atlantic Canada's only independent, non-partisan public policy think tank, providing a distinctive market-oriented perspective on economic, political and social issues. Unique among research organizations in the region, it does not accept government subsidies. The Institute's research focus encompasses education, healthcare, education, trade and public finance.