Missing in Action: School Storm Days, Student Absenteeism and the Workplace by Dr. Paul Bennett makes several recommendations to better serve the education and parents of school-age children such as adapting instructional time as a protected a provincial education priority, along with ensuring students' safety during severe winter weather.
No other region of Canada, urban or rural, comes close to the Maritimes in closing schools for weather-related reasons. Storm day cancellation numbers may go up and down, but the trend from 2013-2014 to 2017-2018 is clear – school is cancelled almost twice as often as it was 20 years ago.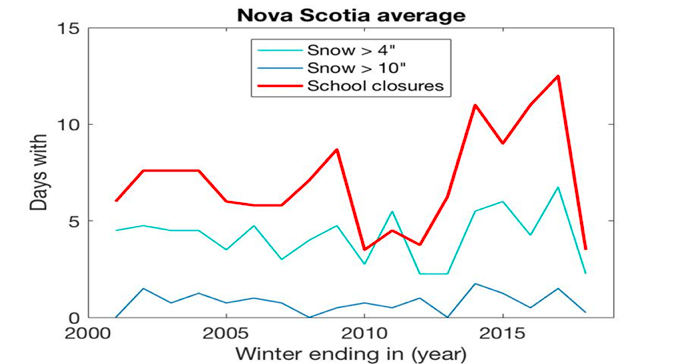 Good public policy is based upon a careful assessment of chronic issues and a grasp of the ripple effect of unintended issues originating in one sector, but with long-term consequences in another. Already high rates of student absenteeism in Nova Scotia's P-12 schools are compounded by cancelling record numbers of days for weather-related reasons. Based upon the research, it is clear that, as Sharpe and de Avillez (2012) observed, "inappropriate" education policies and practices exert "a negative impact" on productivity in Nova Scotia.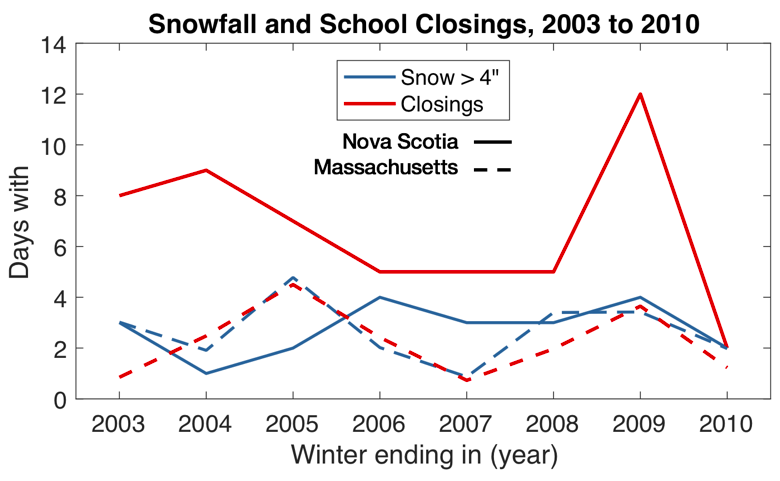 Cancelling school during rare occurrences of adverse weather is not only sensible, but defensible. The critical question is at what point the practice impacts student learning and affects productivity in the workforce. Goodman (2012, 2014) based his research on 2003-2010 data from Massachusetts, which averages three snow days a year. He demonstrated that planned school interruptions were less damaging than student absenteeism, and therefore students were not losing out as a result of closures. However, few commentators examined the magnitude of the difference in storm day cancellations between Massachusetts and Nova Scotia. Nor did they examine conflicting U.S. studies that demonstrated the adverse impact on student progress (Marcotte and Hansen 2010) and the damaging effect of many cancellations on mathematics and reading performance (Gershenson, Jacknowitz, and Brannegan 2015).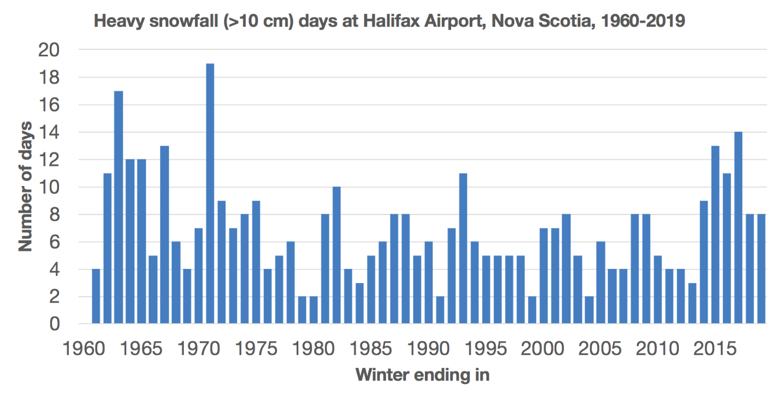 Read the full study here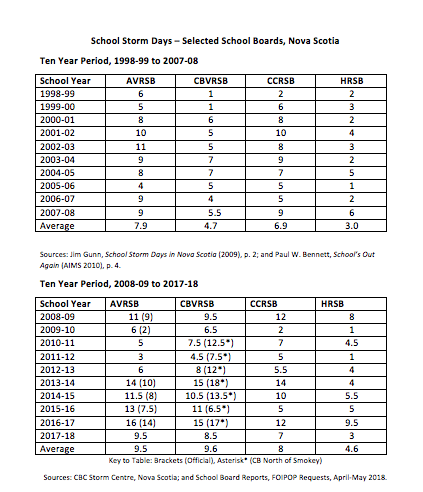 Dr. Paul Bennett
Read Dr. Bennett's prior study on this topic School's Out, Again!