The ports along North America's West Coast are booming. The largest, Los Angeles and Long Beach, last year handled $200 billion worth of cargo, or 13 million TEUs. The opportunity that creates is a huge one for those who know how to seize it. Atlantica: the International Northeast is one possible destination for containers that will soon no longer be able to be unloaded at the traditional offshore ports. But Atlantica is by no means the only option, and others are moving quickly to seize the opening that burgeoning trade and creaking infrastructure creates. Mexico's Pacific port of Lazaro Cardenas is a good example, and is investing big time right now in both Mexico and the US to secure a big share of the Asian trade thanks to its rail connections to the US heartland.

But before we get to Lazaro Cardenas, let's talk about LA and Long Beach. On any given day during the peak shipping months from July to December there is a backlog of heavily-laden container ships waiting their turn to unload. At times the wait offshore is as long as 14 days and at $300,000 a week in salaries and fuel, it's a costly waiting room.

The new generation of jumbo ships will strain existing West Coast operations even further. Ships carrying 8,000 TEUs are commonplace in the Pacific and are so large that loading and unloading one can take up to three days, even with the fastest of cranes. They are too big to fit through the Panama Canal and they ride so deep that some West Coast ports are too shallow to handle them.

Los Angeles and Long Beach, the major ports for the growing Asian markets, are operating at capacity. Meanwhile, cargo traffic from East Asia is increasing 15 per cent annually, with nearly 57 percent of that volume from China alone. By 2020, according to industry estimates, cargo from Asia is expected to double.

It's an opportunity of substantial economic consequences. The ports that invest in their infrastructure to pick up the overflow generated by this increased traffic will see their region prosper and grow. Those that don't will be left in the wake of the mega-ships and mega-ports.

Atlantica, the International Northeast Economic Region, has the geographic address and the natural potential to compete with anything the west coast can develop. Halifax is one of the only ports on the east coast that has the capacity and water depth to handle the new mega-ships. Atlantica is in a geographic location to provide the transportation link to America's largest consumer base. But there's much work that needs to be done to make it happen, and others are making it happen faster than us, with a larger shared vision, and a more consciously cooperative approach.

This is where Mexico and the existing port of Lazaro Cardenas come in. Lazaro Cardenas now handles 180,000 cargo containers a year. Current expansion efforts will increase that capacity to two million containers per year within five years. The port will grow from 7.5 hectares to 85 hectares; the berthing space will increase from 286 metres to 1350 metres; and water depths will be dredged to 16 metres. The price tag for this upgrade is roughly $300 million.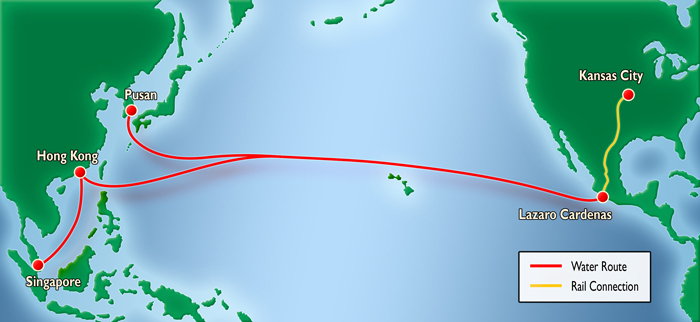 Then there is the multi-billion dollar plan to remake Punta Colonet, a remote bay 240 kilometres south of the US border, into a megaport. The terminal complex will feature of network of terminals, warehouses, distribution centres and berths capable of handling the newest generation of container ships with the port connected to the California border by a dedicated rail line. It is expected the Punta Colonet terminal will handle about one million TEUs by 2012, with room to expand. If the plan succeeds, the sparsely populated cove would become one of the largest maritime transportation centres on the West Coast. Up to $2 billion could be spent on the port, but as much as $22 billion could flow into development of the region. One consultant has suggested that the new port city, whether called Colonet or something else, will be home to 250,000 people within 20 years.

These two projects are moving forward in tandem. There is no 'us and them', but a cooperative effort to be ready for the increase in business.

It's not just regions in Mexico that are preparing for the changing reality of Asia cargo traffic. Just having increased capacity on the Pacific coast isn't enough. Visionaries on both sides of the US-Mexico border jointly looked at the big picture and realized an international trade corridor to the heart of the US was possible. They worked together to be ready for business.

Industry experts say that 50 to 60 percent of the containerized imports that come into ports on the West Coast end up on the other side of the United States. That is why Kansas City, 2100 kilometres from the Pacific Ocean, is looking to become the destination and distribution centre for Asian cargo.

Kansas City's quest to become an inland port began in the 1990's as municipal leaders looked to take advantage of the city's historic role as a major transportation hub. It is the second largest rail centre in the US, and US customs agents already clear more than $9 billion in imports a year moving through the city.

In March 2005, Kansas City signed a cooperative pact with representatives from the Mexican State of Michoacan and representatives from Lazaro Cardenas to increase cargo volume between the two cities. Until recently, moving containers through Mexico wasn't a competitive option for shippers, as Mexican customs charged a "through bond" of up to $100,000 per-container for shipments passing through Mexican territory. The new rules allow shippers to move as many containers as they like for a single $55,000 bond.

The change makes shipping containers through Lazaro Cardenas up to 15 percent cheaper than through Long Beach or Los Angeles. Kansas City offers the opportunity for sealed cargo containers to travel to Mexican port cities such as Lazaro Cardenas with virtually no border delays. It will streamline shipments from Asia and cut the time and labour costs associated with shipping through the increasingly congested ports on the West Coast.

Shipments will be pre-screened in Southeast Asia and the shipper will send advance notification to Mexican and US Customs with the corresponding "pre-clearance" information on the cargo. Upon arrival in Mexico, containers will pass through multiple X-ray and gamma ray screenings, allowing any containers with anomalies to quickly be removed for further inspection. Container shipments will be tracked using intelligent transportation systems (ITS) that could include global positioning systems (GPS) or radio frequency identification systems (RFID) and monitored by the ITS on their way to inland trade-processing centres in Kansas City and elsewhere in the US.

The cargo traffic is there for the taking and the economic potential is substantial. However, Atlantica isn't the only option. The competition to be one of the new gateways to the lucrative NAFTA market is fierce. The billions being spent in Mexico and Kansas City are proof Atlantica's competition sees the opportunity and is already moving to seize it. The window of opportunity is there for Atlantica, but will the powers-to-be just peer through with envious eyes, or grasp the vision, gather the know-how, and spend the money to open a portal to prosperity?
To read more about Lazaros Cardenas, Punta Colonet and Kansas City, check the following links:
Two Worlds … One Route
New Transport Projects to Ease Cargo Bottlenecks
New Container Port Planned for Mexico