By Joseph Quesnel (AIMS Research Associate)
Charlene Combdon, 36, is an award-winning Indigenous entrepreneur and business owner from Newfoundland and Labrador. She has a history of defying expectations, particularly as a female of Indigenous background in a non-traditional area of work.
She recalled a time where she was trying to get a business client on board. She told him she wanted one chance to prove herself. One day, she said, he asked to speak to the manager. She told him she was the manager of Rock Solid Diesel – a 24-hour roadside truck repair service – in Grand Falls-Windsor, Newfoundland.
"The owner of Rock Solid Diesel is a woman?" she recalled him asking in a surprised tone. "I said yes and asked if there was a problem." After that, she proved herself to him and earned his business and loyalty.
"For years now, he has been one of my biggest and most loyal customers," she said with a laugh.
Combdon has come a long way from her small town Atlantic roots to being the recipient of the 2016 Female Entrepreneur of the Year award at the 8th Atlantic Aboriginal Entrepreneur Award Show in Halifax, hosted by the Ulnooweg Development Group. Closer to home, she also won the 2016 Business Woman of the Year award for the Exploit Regional Chamber of Commerce.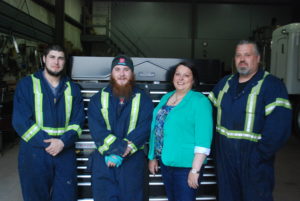 Of Mi'kmaq ancestry, Combdon grew up in the small fishing village of Jackson's Arm. At the time, she said, the village had a population of only about 200 to 250 people. Many of her family members were involved in the fishing industry, including her grandfather who owned his own fishing boat. Combdon's first real job was working in one of the local fishing plants at around 15 years of age.
At the time, Combdon recalls growing up with the traditional Indigenous ways. Working in the crab and shrimp fisheries, hunting moose, and picking berries in the summer, she said, were a big part of her early life. Through traditional elders and her family members, she was reminded from a young age of who she was – a Mi'kmaw woman.
Growing up in a small Newfoundland village taught her the value of hard work and dedication to excellence, she said.
The community had a large First Nation population. It would not be until 2011, however, that the federal government would grant them official recognition as "Indians" under the Indian Act, the federal law governing First Nations on reserve.
In 2011, the federal government finally recognized the existence of First Nations in Newfoundland. Combdon and thousands of other Mi'kmaq Newfoundlanders would then came under the Qalipu
(Pronounced: ha-lee- boo) Mi'kmaq First Nation.
From the province's entry into Confederation in 1949 onward, Ottawa denied that Indigenous peoples existed on the island. Newfoundland Mi'kmaq were denied any claim to Aboriginal title.
In Jackson's Arm during the 1980s and 1990s, however, the thing for Indigenous and non-Indigenous young people to do was to work in one of the two fishing plants operating at the time. One plant dealt with shrimp and the other crab. About 10 years ago, both plants closed their doors, presenting hardship for the community and leading to many people leaving the small village in search of better opportunities.
Despite her great respect for the village fishing industry, Combdon knew that it was not her destiny. In Grade 12, a group of students from her small school attended an event at Dalhousie University in Halifax. At that event, she met some entrepreneurs and she was inspired by their words and example.
"I think I knew then that I wanted to do that," she said.
Combdon originally dreamed of becoming a petroleum engineer. She thought it would bring her a lucrative career.
"I was 18 years old then. At that time in your life, all you see is making money. You don't really see happiness."
She left her small village existence to attend the College of the North Atlantic in Stephenville, Newfoundland. She is not afraid to admit, however, that her first year was a "horrible experience." She enrolled in the common first year for engineering students, but quickly found herself experiencing culture shock.
After one year, she applied again to the same college and enrolled in a three-year business marketing program. The program led her to her first serious job in the transportation industry. She worked for two bus line companies as an operations manager.
After eight years at the same company, the owners decided to sell the business, leaving Combdon jobless. From there, she worked for a company in Grand Falls-Windsor in the field of logistics. She loved the job and the field.
"From that job, the inspiration for Rock Solid Diesel was born."
In her position as a logistics dispatcher, she was dealing with dispatchers and dealing directly with transport truck drivers.
"You really are your own boss."
Combdon encountered a logistical challenge. In the middle of the night, transport trucks were breaking down and could not transport commercial product to their destinations. There were no mechanics available. She could not find that kind of 24-hour mechanical service. There were companies in Grand Falls-Windsor that operated after hours, but none with a mobile after-hours unit.
She opened Rock Solid Diesel in August 2013, offering 24-hour roadside service.
"I saw an opportunity. I saw a gap in the market and I had worked in the transportation industry for 15 years, so I had the experience. I saw the gap and I said I was going to fill it. I also had the existing connections in the truck driving industry to work from," she recalled.
Combdon quickly realized that she was missing out on business opportunities because she was strictly mobile and lacked a permanent shop. A businessman in Grand Falls-Windsor, however, offered to lease her his shop. Her customer base, she said, went from 20 to 100 almost overnight. Combdon had exceeded her own expectations with the move because her business plan was to own her own shop within five years, which she achieved within one year.
She also credited a local Community Business Development Corporation (CBDC) and the Business Development Bank of Canada (BDC) with taking a chance on her and financing her business. She recalls being scared when walking into the CBDC for an $8,000 loan to purchase a mobile repair unit she required. They were impressed with her business plan and provided the loan.
Rock Solid Diesel has also been a boon for the community as Combdon has hired local apprentices and journey people. At present, Rock Solid Diesel has four full-time employees.
Her challenge was to secure business contracts with some of the larger customers, so she could have guaranteed work for her business. Once she established those relationships, her business began to grow. She also tapped into the Maritime Link hydroelectric project on Newfoundland. Her business did a large part of their repairs and from there, her business experienced a "trickle down" effect.
"We do business from British Columbia right down to the state of Tennessee," she said, proudly.
Being Indigenous and female is not a barrier for Combdon, who prefers to see barriers as "learning curves in life that help you grow." One challenge for her business is being located on an island. If she needs to do a repair somewhere, they often must wait five to seven days for product to arrive there. Products such as tools and auto parts are not always readily available in Newfoundland, she said.
Combdon now wants to expand into marine diesel operations with a service truck. She wants to reach more remote locations in the bush.
"Our 10-year-plan went out the window," she said, laughing. "It is not even remotely close to what we originally envisioned."
She said her long-term plan is "Freedom 55," but laughed and added that, "It won't happen."
But she certainly is not ready for retirement. Combdon is very active in the local business community as she was just recently elected as a member of the Exploits Chamber of Commerce. She is also quite actively involved in the Indigenous community of Grand Falls-Windsor and wants to inspire change in her own community.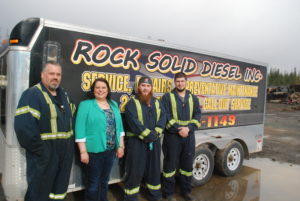 In the end, Combdon was successful because she refused to accept any barriers in her life. A small town girl from Jackson's Arm, Newfoundland, she is no longer.
A young Indigenous woman saw an opportunity in a non-traditional area and seized it with both hands. She took advantage of entrepreneurship, that bedrock of our free-market economy. This would only become a net gain for both Indigenous and non-Indigenous communities in her home region.
This article is part of a series of profiles discussing successful First Nations entrepreneurs in Atlantic Canada, sponsored by the Atlantic Institute for Market Studies (AIMS). Author Joseph Quesnel, of Métis extraction, is a political writer, journalist and policy analyst based in Antigonish, Nova Scotia. Among the important efforts to improve living conditions on First Nations communities is a greater emphasis and encouragement of entrepreneurship. This ethic improves the wealth and progress of any community, and this series showcases examples of success in the region.