The AIMS Purdy Crawford Fund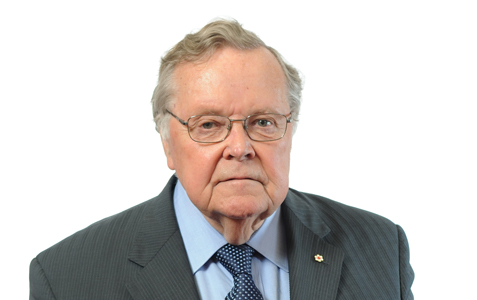 It has been said that Purdy Crawford mentored a generation of Canadians. Others have described his most enduring legacy to Canada being his "knack for recognizing the potential of young people he encountered and helping them climb the ladder in their careers."
Having served as a driving force during the formative years of the Atlantic Institute for Market Studies, Purdy Crawford was our passionate fundraiser, our spirited Chair, and one of our greatest champions. Purdy believed that ideas matter, that good ideas must be effectively communicated, and that they need to be supported with facts. AIMS is the embodiment of that belief.
In 2013, Purdy Crawford, together with AIMS' current Chairman, John Risley, established The AIMS Purdy Crawford Fund to ensure that the institute would have the resources needed to continue providing evidenced-based research and ideas that support the prosperity of the Atlantic Region. Purdy Crawford passed away in August of 2014.
The AIMS Purdy Crawford Fund is a testament to the legacy left behind by one of Atlantic Canada's most influential forces in business. Our goal over the next two years is to seek major gifts in honour of Purdy, a fiercely loyal Atlantic Canadian and one of Canada's most respected businessmen.
The AIMS Purdy Crawford Fund is about establishing a legacy in the name of a great Atlantic Canadian.
For more information on the AIMS Purdy Crawford Fund, please contact Marco Navarro-Genie at aims [at] aims.ca or by calling (902) 429-1143.
AIMS produces a newsletter called The Beacon. Stay connected to the latest policy research and discussion, subscribe now.