AIMS is an independent economic and social policy think tank.
The Institute's chief objectives include:
initiating and conducting research identifying current and emerging economic and public policy issues facing Atlantic Canadians and Canadians more generally, including research into the economic and social characteristics and potentials of Atlantic Canada and its four constituent provinces;
investigating and analysing the full range of options for public and private sector responses to the issues identified and to act as a catalyst for informed debate on those options, with a particular focus on strategies for overcoming Atlantic Canada's economic challenges in terms of regional disparities;
communicating the conclusions of its research to a regional and national audience in a clear, non-partisan way;
sponsoring or organising conferences, meetings, seminars, lectures, training programs, and publications, using all media of communication (including, without restriction, the electronic media) for the purpose of achieving these objectives
AIMS is one of the most highly regarded think tanks in North America.  Winning four Sir Antony Fisher Awards for Institutional Excellence, a feat unprecedented in the world, plus the Templeton Freedom Award,  AIMS is known for the quality of its work, and for its keen sense of identifying areas of policy that are most impeding social and economic growth.  It is no wonder that AIMS' work receives high praise from leaders of labour, government, and finance from around the world.
Our core research team and our internationally-recognized academic fellows employ the highest standards of excellence in every piece we publish; and, over the past 20 years, AIMS has developed an extensive library of top-quality policy-related papers that serves as a rich resource for business leaders and the community at large.
AIMS does not accept targeted funds to commission specific papers, nor does it accept government funding; rather AIMS maintains its intellectual independence and is staunchly non-partisan. This stance has helped to engender trust among our stakeholders and our donors and supporters. Over the course of this year, AIMS will be celebrating this milestone anniversary with a series of high profile events throughout the Atlantic Region. Contact aims@aims.ca for more information.
Purdy Crawford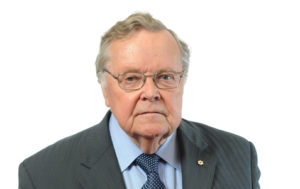 One of AIMS proudest supporters, avid champions, and former chairman, the late Purdy Crawford, offered this astute description of AIMS and its work:
"The purpose of AIMS is not to eliminate regulations, or to eviscerate them. It's to look at how regulations, as they are enacted through policy, in all of the many areas where society has a stake in the outcome, can be made BOTH effective in ensuring the desired outcome and efficient in that they don't impose undue burdens on either the regulators or the regulated. Good prescriptions are always based on good diagnosis — we have to understand what is wrong with our economy before we can fix it.
So the job of devising good policy options for the future must begin with good analysis of the past; and, AIMS has done a lot of what I consider to be very sound analysis."
John Risley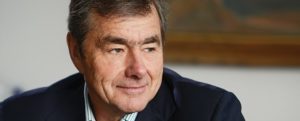 I am so grateful for all that Purdy Crawford, our donors, former chairmen, board members, staff, research fellows, and AIMS champions, have done to make AIMS what it is today.
In the wake of Purdy's legacy, and in celebration of this milestone in our history, let me assure you that AIMS will continue to be the voice of sensible policy in our region; to hold government accountable for its size and activities; to be better at what it needs to be good at and to step aside from those activities that are best left to the private sector and market forces.  To favour action now rather than never, and always to ask the question:  how can we do better?"
John Risley, AIMS Chairman of the Board