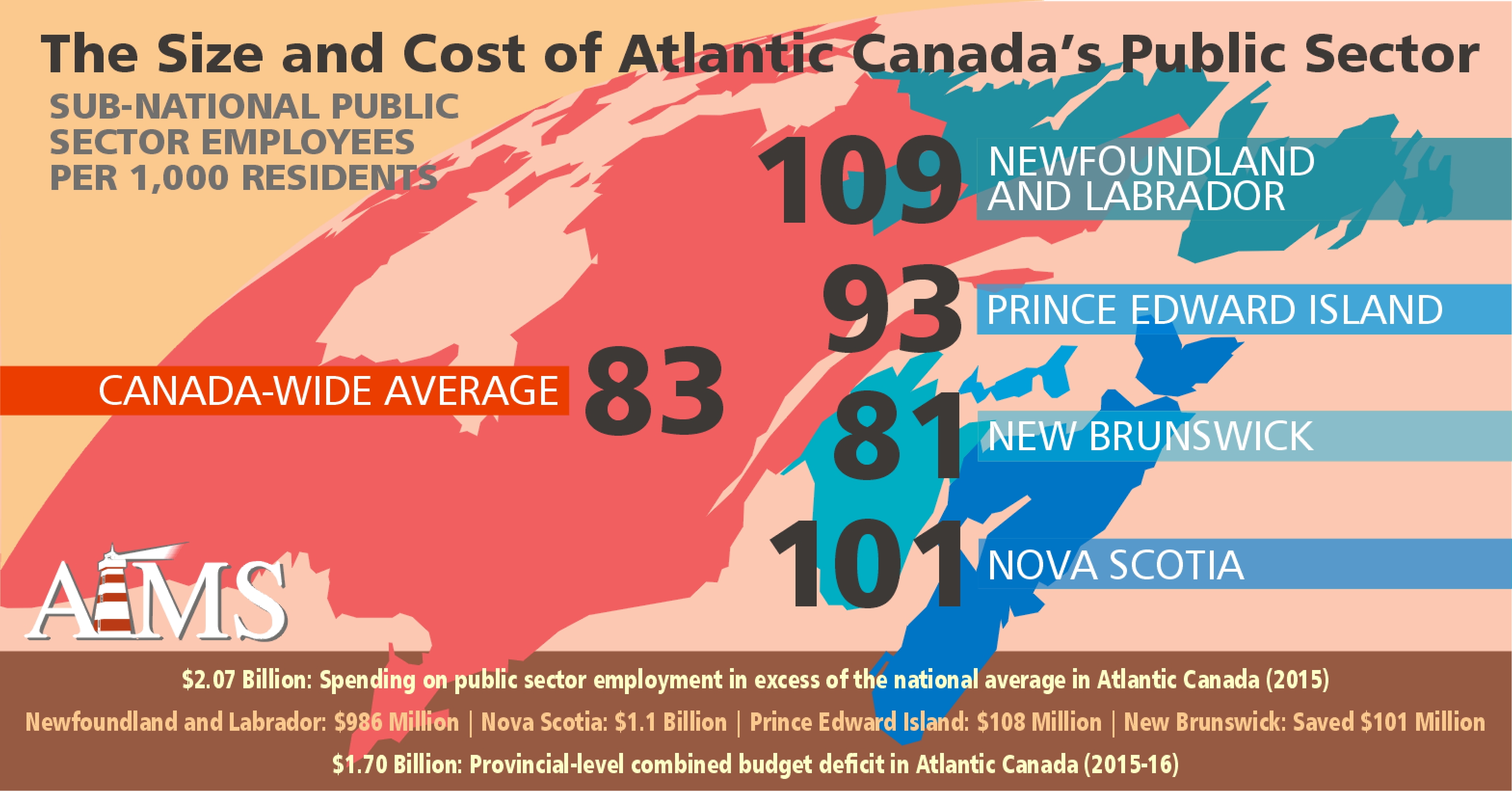 The Size and Cost of the Public Sector in Atlantic Canada, 2015 examines provincial public sectors in Newfoundland and Labrador, Prince Edward Island, Nova Scotia, and New Brunswick. It finds that according to various metrics, the sub-national public employment of the Atlantic provinces is larger than their western counterparts.
L a t e s t
C o m m e n t a r i e s
---
Subscribe to The Beacon Newsletter!
Three Ways to
Support AIMS

Driving Prosperity

Friends of AIMS

AIMS Purdy Crawford Fund

In the News

Marco Navarro-Génie
News article quoting AIMS President Marco Navarro-Génie • Chronicle Herald, 23 November 2016 More needs to be done to trim the provincial public service, says the author of a new [...]
Atlantic Institute for Market Studies
News article quoting AIMS study The Size and Cost of the Public Sector in Atlantic Canada, 2015 • CBC News, 22 November 2016 The P.E.I. government needs to look harder [...]
Jackson Doughart
By KIM MACKRAEL (Wall Street Journal) OTTAWA—The collapse in recent years of global commodity prices exposed structural weaknesses in Canada's resource-rich economy after it had lost export capacity and market [...]
Latest Media Appearances

Jackson Doughart
On Nov. 24, 2016, AIMS Policy Analyst Jackson Doughart was a guest of CBC Radio's "Maritime Noon" program. Host Norma Lee MacLeod interviewed him about AIMS's study "The Size and [...]
Jackson Doughart
On Nov. 24, 2016, AIMS Policy Analyst Jackson Doughart joined the Rick Howe Show on Halifax's News 95.7 to discuss AIMS's study "The Size and Cost of the Public Sector [...]
Marco Navarro-Génie
On Nov. 23, 2016, AIMS President Marco Navarro-Génie joined Jean-Albert Maire of Radio-Canada to discuss AIMS's paper "The Size and Cost of the Public Sector in Atlantic Canada, 2015." The [...]