Chairman's Dinner with Jason Kenney
October 22 @ 6:00 pm

-

10:00 pm
AIMS 2018 Annual Chairman's Dinner
with the Honourable Jason Kenney
 Monday, October 22nd
Cunard Centre, 961 Marginal Road, Halifax, NS
Reception    6:00pm
Dinner          7:00pm
Table of 10 for $1,500, individual tickets $150. To purchase tickets follow here
or call 902 429 1143 x231
The Chairman's dinner is a major event on the AIMS calendar and offers guests the opportunity to meet many inspiring members of the community and contribute to the Institute. The event is hosted by Mr. John Risley, O.C., Chairman of the Board of Directors. This year, Mr. Jason Kenney will join Mr. Risley for a lively chat that will draw on his extensive experience in government.
Critical question of public policy will be the topic at hand, including pipelines, development and regional prosperity, NAFTA, immigration, and carbon taxes.
JASON KENNEY, MLA PC
Mr. Kenney is Alberta's leader of the Official Opposition, and leader of the United Conservative Party. He was elected to the Legislative Assembly of Alberta for Calgary-Lougheed in 2017.
Kenney was a six-time elected MP. He served as Parliamentary Secretary for the Prime Minister of Canada, Secretary of State for Multiculturalism and Canadian Identity, is a former Minister of Immigration and former Minister of Defense. Kenney held the post of Minister for Citizenship, Immigration and Multiculturalism from October 30, 2008, to July 15, 2013, when he became Minister of Employment and Social Development and Minister for Multiculturalism.
Kenney resigned his seat in Parliament on September 23, 2016, after sitting in the House of Commons for 19 years. He was elected leader of the Alberta Progressive Conservatives on March 18, 2017, on a platform of merging with the Wildrose Party. He served as leader until the merger was effected on July 24, 2017, and was elected United Conservative Party leader on October 28, 2017.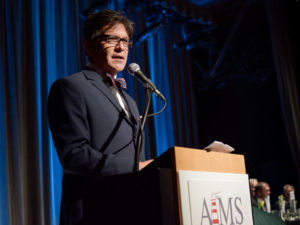 We would like to thank our sponsors and partners!